'Be proactive, not reactive!' The trainers of First Security Group gear up to spread MERS-awareness
With the recent news about the Corona Virus and MERS cases in UAE, being covered by all media channels, it is procedural for any facility having a lot of human traffic to make the people aware of the risks of the disease.
By 20th April, the count of MERS reported cases had reached 14, although it was also announced that MERS is curable. The FSG Training Centre had more than 50 trainees on this day, all aspiring security guards and life guards. By noon three of them showed signs of illness, very similar to the symptoms of the Corona Virus. The
Admin.team immediately informed the respective security companies about the health condition of their staff. Legally, this is all that was required to absolve the Training Centre of any responsibility.
But the real action began here. The social and moral responsibility of the FSG team took precedence over all else.
The trainers Pieter, Narayanan, Tamer, Edwar and Perlita, all qualified and licensed First Aiders and Health & Safety professionals, got down to work. domain of a circle graph They quickly got information sheets put up all over the facility, distributed masks to one and all and asked them to wear it for protection and hygiene. The Sr. Trainers conducted a session to educate these new comers about the virus and explain what precautions should be taken. All in all, a regular training session ended up as an awareness program!!
'It is very easy for most of us to access information about MERS, as we listen to the radio while driving, get SMS alerts, read the news, etc. We listen and we forget, because none of our near and dear ones have been affected!' says Liz Jajal – Operations Manager of the FSG Training Division. 'But in the labor camps every 10th person has a strain of cold, fever, flu and diarrhea. It is normally treated with some OTC medication. sweden Is it not necessary to make them aware of these health hazards? They are as much part of the UAE community as any one of us, but they don't have the time, education and resources to equip themselves should an epidemic occur.'
First Security Group LLC. Is committed to educating and training the society on all Health, Safety and Security aspects.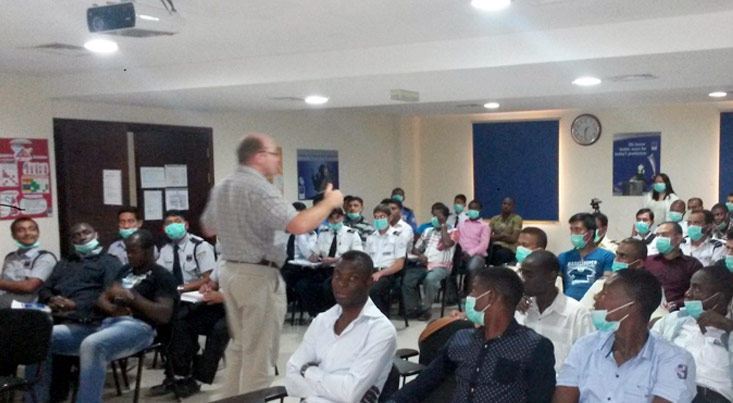 Article courtesy of:  Dubai PR Network